Sphelix The Popstar of all Shapes designed by Johnny Hawkes
The mother of all forms. Endlessly metamorphic, deceptively simple, the Sphelix is the shape of things to come.
The Sphelix® is a new global shape, the joining of a sphere and a helix, it spins ying yang, DNA and the life force and the joining of communities.



Latest News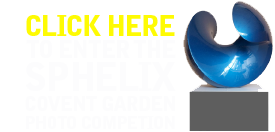 © All rights reserved 2011